The electronic system GARL 2001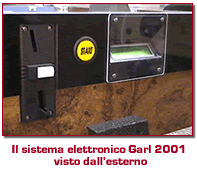 Convenient for football and pool tables, since its first appearing this innovating system has caused a revolution in the way of considering the electronics for game tables.
Available in two versions: with battery (and wake-up sensor for the low consume mode) and with a direct connection to the electric network (without battery).
Boasting an extremely easy – because highly intuitive – way of programming, suitable to be used with any currency, available in four languages (English, German, French and Italian), GARL 2001 features several possibilities of setting credits and bonuses.
Among the options offered by the system, the low consume display, the possibility o protecting the la programming by using a password and other.
System components
A 12-channel electronic coin mechanism SECI (fig. 1) able to recognize and accept up to 12 different coins (having a diameter between 19 and 32mm.). The programming of each channel is identified by a label sticked on the coin mechanism itself.
The coin mechanism is equipped with a rejector-button to turn out any false or faulty coin. The coin mechanism is fed either by a cable connected to the electrical network (system with direct network connection) or by a battery. In the latter, a "wake-up" sensor - placed on the coin mechanism - will activate the coin mechanism exclusively while it is being used, thus limiting the battery consume as much as possible
A programming board GARL2001 (fig. 2) with a digital counter, a starting button, a trimmer to set the display shade contrast, various connecters and the four buttons UP, DOWN, RIGHT, LEFT to effect the programming.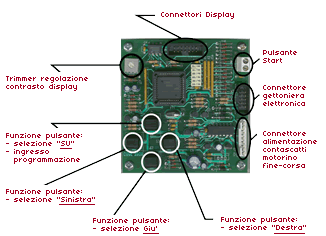 A motorised ball release mechanism composed by a motor (fig. 3), a cam (fig. 4), a ball release lever (fig. 5), a releasing arm (fig. 6) a micro-switch (fig. 7)..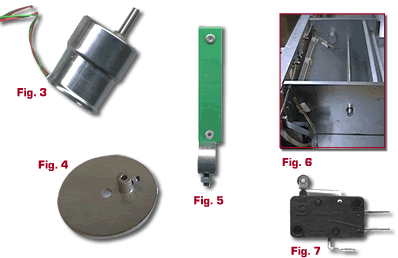 A non-resettable mechanical click-counter for a double check of the games played (fig.8).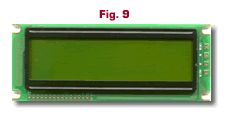 A liquid crystal display (fig. 9) showing all programming steps, including: the total amount reached by the coins inserted, the credits registered, the games played, the total cash.
The display is set in a plastic support (fig. 10) and protected by a plexiglass cover (fig. 11).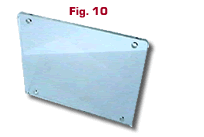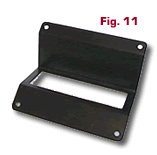 A complete set of wires connecting all the system components.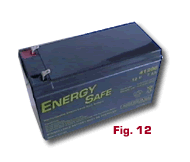 A lead-sealed 12 V long duration rechargeable battery (fig. 12) lasting over 18 months in the absence of recharging (supplied on battery-operated version only).
A cable to connect the system to the electrical network (supplied on version with direct network connection only).
A Start button (fig. 13).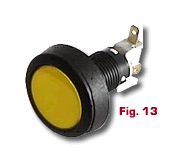 Una copia delle istruzioni per la programmazione è scaricabile (in formato PDF) dalla sezione AREA DOWNLOAD.